Welcome to my Fashion Story Board.
This is my first attempt at sharing how you can accessorize a simple outfit
using the items found in the specialty shops of the
"Unique Women in Business Yahoo Group".
I have joined Janet of "Honey from the Bee"
for
Getting it Together Thursday's
.
To get a closer look at the accessories I have chosen,
just click on the photo and you will be redirected to the
Etsy shop where you can also purchase the item. Enjoy!
Alexander Wang Black Mesh Skirt
Old Navy Lace Chiffon Batwing Tops
Vince Camuto Michelle Hobo Purse
Narrow Brim Fedora
Stylish Women's Anti-ultraviolet Radiation Sunglasses Black
NOW LET'S ACCESSORIZE!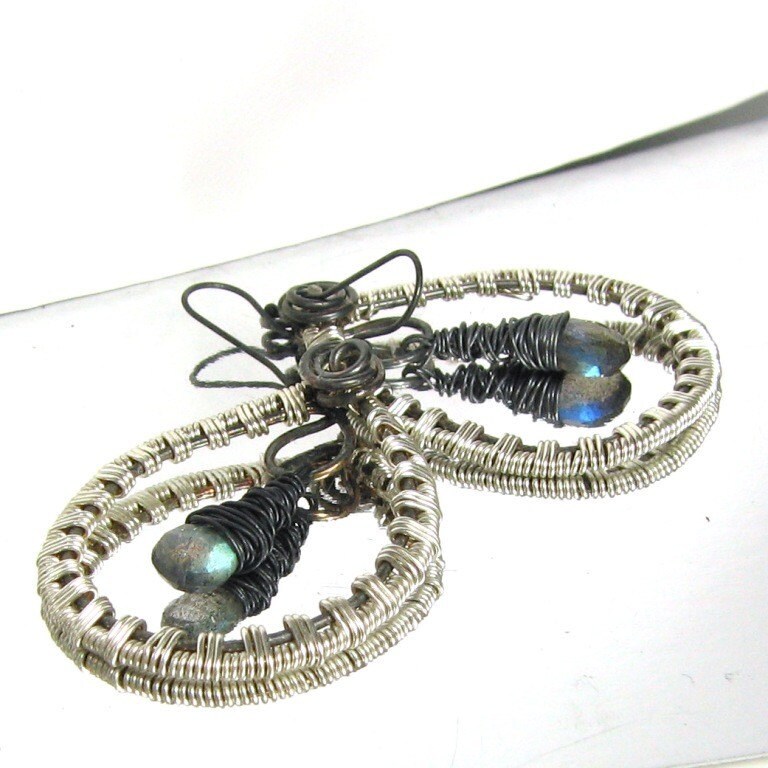 Labradorite is so fascinating! The flash and fire can be seen even in dim lightly lit bistros. I paired these beautifully faceted gemstone briolettes with my hand made wire wrapped design using both oxidized and un-oxidized silver wire to show off the intricate pattern.
These handcrafted earrings fall about 2 and 1/8 inches from the top of the ear wire.
See more designs at:
http://AudreyGardenLady.etsy.com
http://www.etsy.com/listing/69626106/labradorite-on-sterling-wirewrapped
"I am very excited to present this the very first scarf in my collection of functional art items."Rhapsody" is an uplifting nature designed piece with dangling golden pears, small white rabbits, with floral and botanical imagery. I find these colors magnificent together. I hope you enjoy this too."~Robin Maria Pedrero
The scarf is made of pure silk habotai, 6" x 48" with the image Rhapsody printed upon it.
http://www.robinmariapedrero.etsy.com
.
Wear this lovely necklace as close to your neckline or extend it to rest just above your cleavage. I have alternated multi faceted briolette crystals on the first 3 inches of each end of the lariat, totalling 22 crystals ...11 on each side. The chain chosen for this lariat is made of several loops varying in size all linked together.
http://www,jmjcreations.etsy.com
"I cast this bronze victorian seashell, drilled and soldered the fine silver bezel setting onto it, then, soldered onto the very sturdy sterling silver half-round band. Size 8. I love the color of the bronze, it's golden with a rose cast to it. The sterling band will assure wear ability with no discoloration (I've sealed the bronze on the back of the ring so it doesn't turn your finger green!)"~Ciaobela
This will be an amazing statement ring for this summer, holidays, every day.
http://www.etsy.com/listing/70913250/seashore-summer-victorian-seashell-ring
Thanks for stopping by. Please leave a comment. For more shopping and accessing the shops of the World Renowned "Unique Women in Business" visit: http://www.myuniquegiftguide.com
Remember..... Bloom Where You are Planted! :)
Karen
JMJ Creations